"15 years Ernst Krenek at Minoritenplatz" in Krems/Stein
From modular synthesizer workshops to song recitals, from round tables to exhibition tours on special topics, from yodeling workshops to chamber music concerts: With its colorful array of educational offers, events, and exhibitions the Salon Krenek at Minoritenplatz in Krems/Stein is as many-faceted as the composer and author Ernst Krenek (1900-1991) himself.

Located within the historical walls of the former Minorite Monastery, the exhibition and event room was established in 2008 with the support of the cultural section of the State of Lower Austria. The Ernst Krenek Forum opened with the exhibition "I dreamt of a travelling train… Composer Ernst Krenek's Life Journey or The One-Man History of Twentieth-Century Music" curated by Univ.-Prof. Dr. Matthias Henke to make the life and work of Ernst Krenek accessible to the public. The venue was fully renovated in 2021 and reopened as Salon Krenek with a new design and the exhibition "Visiting Ernst Krenek (1900-1991)".

Since 2008 more than hundred thousand visitors, hundreds of school classes of different age groups, and event visitors have set out together with artists, cooperating partners, and cultural educators at the Salon Krenek to discover the life of Ernst Krenek, the music of the 20th century and beyond.
Incorporated in the active cultural life of the city of Krems along the Kunstmeile, the Salon Krenek is an interdisciplinary and open space for interaction and encounter, and a home for new music and education.
The Salon Krenek aims to be a space for inspiration, filled with playful curiosity, with open eyes, with spirit of discovery and delight in experimentation, and to facilitate learning and knowing about Ernst Krenek, his time and his music, and building bridges to current topics.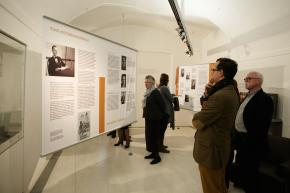 Visitor voices (original in German)
"Very interesting, because very confusing = moving = stirring up the mind…"
"Great history in great rooms!"
"Krenek's dream of a world without war is sadly not yet reality – but his music is a big present for all of us!"
"I was totally amazed by the way you have presented the piece to the children! When working with the children you have shown great empathy and valued and realized even the most extravagant ideas of the pupils. The scenes of the story were very professionally and skillfully developed, danced, spoken, musically arranged, and assembled in a complete work of art in the end."
"Rarely seen such a delicately arranged exhibition… Thanks for the experience with all senses."
"I had lots of fun, because we made music, that I had no idea of how it would work or sound. It was a really great and special experience!"
"I have not seen such a well designed exhibition for a very long time! The layout, the structure, the comprehensibility complement each other perfectly and it is of great value in this era of digitalization to once again find so many haptic experiences in it."